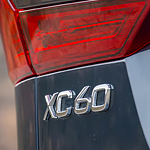 Your ride should be comfortable and convenient. The new Volvo XC60 makes sure this is true for passengers in their newest models. With luxury that draws attention, materials that exude comfort and modern color schemes, the interior of the Volvo XC60 is one to be appreciated.

One of the greatest achievements that were accomplished in the interior design of the XC60 is the simplistic layout combined with a complex suite of navigation, safety and comfort controls. In fact, the 9-inch Sensus Touchscreen is a main point of focus within the vehicle itself and in the minds of consumers. It offers control over vehicle safety features, technology initiation and comfort settings at the touch of a fingertip. Another notable facet of the Volvo XC60's interior is the hand-crafted design itself and accompanying luxury materials.

Schedule a test drive with Volvo Cars of Roanoke today to experience the unique metal finishes, wood treatment and sleek design the Volvo XC60 has to offer.