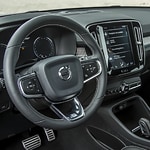 Do you dream of finding the heart of a sports car in the body of an SUV? The Volvo XC40 R-Design may be the answer to that dream. This popular, compact, performance SUV is built for sport, inside and out.
The XC40 R-Design is built on a sport chassis for a tight, responsive driving experience. If you want to step up the performance, you can opt for the Four-C active chassis. This system has sensors and software that analyze the vehicle's motion and instantly adjust the suspension to optimize it for your Roanoke driving conditions.
The XC40 R-Design has a Charcoal, leather-trimmed interior with optional red Lava carpeting. There's also an R-Design Sport Steering Wheel for your hands and sport pedals for your feet.