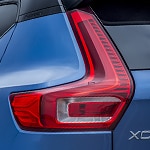 If you're in the market for a new vehicle, you should definitely consider the popular Volvo XC40. It's a luxury subcompact SUV that has lots of interior room and attractive exterior design. Below are two noteworthy exterior features.
Panoramic Moonroof

Having a panoramic moonroof is fun because it opens up a vehicle and lets the sun shine in. While this is the case for the Volvo XC40, that's not the only reason why it's beneficial. The panoramic moonroof keeps you cooler by allowing air to flow through the vehicle.

Heated Windshield Wiper Blades

?Heated windshield wiper blades are a feature on the Volvo XC40 that enhance visibility by making sure the wiper fluid doesn't freeze. It's one of many features that make the XC40 a highly-regarded SUV.
Test drive the Volvo XC40 today at our dealership here in Roanoke. The team at Volvo Cars of Roanoke is available to answer any questions you have and we look forward to seeing you soon!