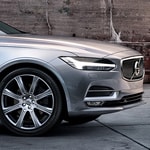 The Volvo V90 is a top-notch luxury wagon, equipped with many features that come standard in even the most basic trim that will leave you begging for more. And it doesn't stop there. Volvo has taken great care to ensure that you, and those riding with you, are encased in safety by endowing it with several protective specs that make this vehicle a security all-star.
One of the many safety options that the Volvo V90 provides is the Blind Spot Information System, otherwise known as BLIS. This system is designed to function as your very own safety assistant, by letting you know when a vehicle is in your blind spot and whether or not it is safe to proceed with a lane change. Moreover, the Volvo V90 takes your protection up a notch by offering automatic braking after an accident to make certain that your car doesn't collide with something else in its path, such as a person or guardrail.
The Volvo V90 was clearly designed with safety in mind. With these functions and more coming standard with all models, it is apparent that Volvo values the safekeeping of both you and your riders.